Source
thanks and via
fiercebitchstew
From Milenio. A princess that doesn't believe in fairy tales.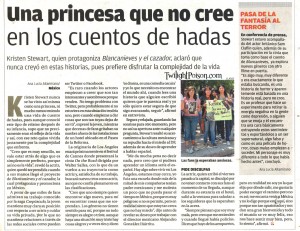 On why she chose Snow White, and why it reflects life itself:
"It's very simple – don't go after things because they appear to be perfect. Life is not like that."
On being private about her personal life:
"I think it's weird when actors start to believe they're interesting and cool because they sell themselves. I don't have a problem with Twitter, and probably if I wasn't in this position I'd have one, but when you start giving away pieces of yourself, you stop being you."
On challenging herself as an actress:
"I think everybody wants to find something new, I want to find something that amazes me. Genres don't mean anything to me, because not everything is happy or sad nedessarily. Even in a sad situations you can find happy times, and sometimes you laugh, so they call it a drama, or it's a dark comedy. For me, I just need to find a world in there. To read a story that somebody wrote, and find it real. I just want to make sure that I'm moving forward."
On liking Mexican culture, wanting to learn Spanish and disliking when people call Mexico dangerous:
"I'm sorry I can't say anything in Spanish, but if there was a language I could learn it would be Spanish. There's something about living in LA, we're so close, and I went to a school where most of my classmates had a Mexican parent. It bothers me that people say I can't spend more time in Mexico, because it's dangerous or beause I shouldn't, but I'm so close to it that I'm not afraid."
On apologizing for not greeting fans at the airport:
"Sometimes people think I'm mean, but I think they understand. They had police officers. They say I run from airports but I'm not the one who chooses which exit to take. I like coming to Mexico, and I'm not saying that because I'm here. It's because people here are so passionate and they're always very warm, everybody looks so happy, and that makes us feel good, but I am sorry."
Excelsior: Snow White is not a Helpless Girl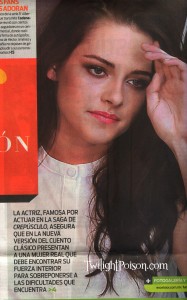 On going to Cannes:
"I'm not nervous about going. I know it's one of the highest places for an actor to reach, but I feel lucky because I get to share my passion. that's the reason why I do this job. According to Excelsior, SWATH will open in 800 screens across Mexico.
Reforma: Kristen Stewart wants to fight for sex workers.
Kristen Stewart wants to open two support centers for female sex workers who want to change their lives.
"I think the world of prostitution is hard to get into, and making the choice of leaving it can be just as difficult. I want to give former prostitutes the best. I would put all the money I have into doing it."
On being a role model:
"I think it's important to not try to consciously be a role model, but to just be yourself. I'll keep doing my thing. When a group of people follow you it's because they relate to what you do. It's weird when you're put in a different spot, because I think we're on the same level."
On not being allowed to see Mexico city:
I'd love to be able to say 'F*ck it.' And go outside and see the city, but they say it's dangerous so I'm not allowed."
The newspaper goes on to share how 150 fans were waiting outside the hotel in the hopes of seeing her. One 14 year old said she would not leave until she saw her, even if it mean sleeping outside and following her to the airport.
EL Universal: Why does it matter what I do on Sundays?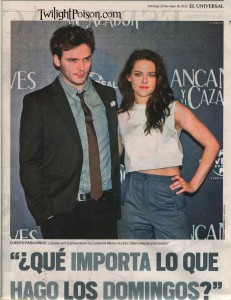 Why does it matter why I do on Sundays?
This movie is everything I wanted it to be, so I want to talk to the press about it, it makes sense because I'm so excited about it. Being here makes me happy, but if you start asking questions about what I do on Sundays, I'd say 'Why do you want to know? Who cares what I do on Sundays?" (laughs)