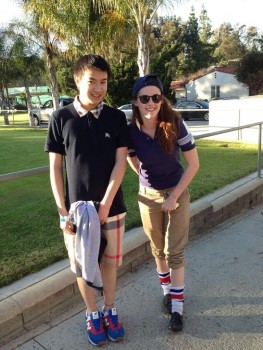 Fans Encounters:
PuiYuWang
: unbelievable! I met Kristen Stewart !!!
Kristen is super pretty, has perfect skin and she's not very tall. Kristen asked us "how are you guys doing" :D

Lucas
went to golf with his friend PuiYuWang and others. They were in their car and saw Kristen with her friends (Scout included) passing by. They got out of the car and asked Kristen if they could take pictures with her. Kristen agreed and smiled and posed with all of them. Kristen asked them how they were doing. Kristen's friends also asked them if they're happy. Lucas said Kristen is just so nice and she and her friends are super cool people. Before she left, she waved to them. She is very beautiful in real life and her skin is perfect.