Via @epnebelle, @Gossipgyal, and @Itsoktobeyouorg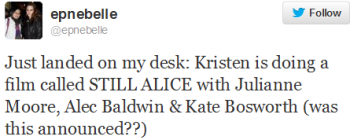 Julianne Moore has come on board "Still Alice," starring as a university professor in an adaptation of Lisa Genova's novel.
"Still Alice" is scheduled to start shooting New York mid-February. CAA is representing the film in the U.S. while Memento Films Intl. handles world sales.
The project is a Lex Lutzus and James Brown production in association with Killer Films. "Still Alice" is fully financed by BSM Studio, the newly launched one-stop-shop financing venture formed between Paris-based Backup Media and Marie Savare.
Moore will portray a cognitive psychologist who faces the early onset of Alzheimer's disease.
--------------------------------
Projects must attach an A-list cast before they can secure financing. A Killer film in development, Still Alice, is based on a successful novel written by Lisa Genova about a 50-year-old woman's sudden descent into early onset Alzheimer's disease. The potential cast for Alice will make you say 'ahhhhh' out loud and will hook in the financiers I'm certain. It hooked me. Her daughter will be played by a young box-office draw from a major franchise. 'Ohhhh'. It's all very impressive. But not for the investors. There is one character in the script that is yet to be cast, the father, a supporting role. It's hard to cast to an A-list actor because of how small the role is, so financiers won't commit until someone 'suitable' is cast.
-------------------------------
Prod Weekly's last update (7 Nov) on 'STILL ALICE'
STATUS: Mid-February 2014 LOCATION: New York
PRODUCER: Christine Vachon - James Brown - Lex Lutzus WRITER/DIRECTOR: Richard Glatzer & Wash Westmoreland
CAST: Julianne Moore
MEMENTO FILMS 9
Alice Howland, happily married with three grown children and a house on the Cape, is a celebrated Harvard professor at the height of her career when she notices a forgetfulness creeping into her life. As confusion starts to cloud her thinking and her memory begins to fail her, she receives a devastating diagnosis: early onset Alzheimer's disease. Fiercely independent, Alice struggles to maintain her lifestyle and live in the moment, even as her sense of self is being stripped away. In turns heartbreaking, inspiring and terrifying, Still Alice captures in remarkable detail what's it's like to literally lose your mind. Based on the novel by Lisa Genova.
------------------------------------
film adaptation starring Julianne Moore to be released in 2015