"@_birnah Just met Kristen Stewart and got to be in a music video that her friend was making!!! #happy #Nashville #KristenStewart #exchangestudent"
"@_birnah she was just behind the camera haha I'm just walking by in the video, don't know if they will use it ;)"
----------------
"Yes that's me holding Kristen Stewart and Courtney Lynn and sage and the saints. Just came into our gig. They were filming a video. We got to be in it. #bella"
----------------
"licialoulou: Kristen Stewart behind our store today. #kristenstewart #bettiepageclothing #work #dayinthelife"
"Working with Sage + The Saints tonight"
-----------------------
"stumbled into being part of a random music video shoot, directed by Kristin Stewart. Nashville is a weird place."
--------------------------
"Tonight I met #KristenStewart and she was super cool and super sweet! #Sage+TheSaints"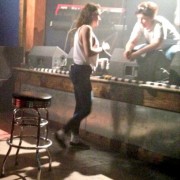 "Pic of Kristen between sets at Sage & The Saints. She was hard at work & the entire gang was there. <3 div="" her.="">
"Went well! She was really into it. You could tell she was passionate about it. She was always behind the camera."