Via @Itsoktobeyouorg and @SomeLostBliss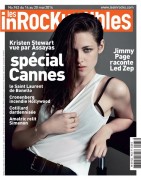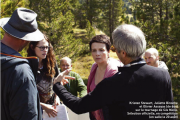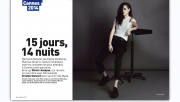 In Sils Maria, Olivier Assays organizes a few confrontations between two characters in particular: an internationally renowned actress and her young American assistant, both isolated, in the outback of Tyrol to prepare a play. But it is also a confrontation between two real actresses: Juliette Binoche in a mirror role that she interpreted in her early stages in 'Rendez-Vous' (1985), by André Téchiné (Written by Assayas), and Kristen Stewart, the star of Twilight (2008, etc…), reinvented here as an American student a little tomboy-ish with an incredible intellectual subtlety and comical nature. The director explains in detail some facets of this magnificent portrait of actresses, sensual, wily and kaleidoscopic.
DANGER
"I wrote the movie thinking only of Juliette (Binoche). The film is constructed around her. Next to this character of a French actress with an international career, I imagined the character of an assistant and I instantly wanted for the role an Anglo-Saxon actress. The character had to have this pragmatism that Anglo-Saxon people possess, a woman of her time, to the point of having some some sort of toughness. And it was important to me for the dialogue to be in English. Because I wanted to go search into Juliette something different than what she can do in French. I was looking for an actress who could put her in danger and to shake her up."
IDENTIFICATION
" I saw the first 'Twilight', that I like, but I haven't seen the next ones. Before that, I had already seen her in Into The Wild (2007) by Sean Penn. Then I saw her in 'The Runaways' (2010), which is not a good film, where the reconstitution of rock'n'roll in the 70s is very artificial. But we believe it and we perfectly accept that she is Joan Jett. In "The Runaways" especially, we discover in her something very tough, tense. I was hoping to find behind this wall, some form of humor, something human and something close, which produces identification. I found it and it was way beyond my expectations."
AFTER
"I met Kristen a few times thanks to my producer Charles Gillibert, who also produced 'On The Road' (2012). We spent some informal time together after some premieres, in small groups. We didn't talk about my work, or hers, but the contact was nice. I felt like she was very interested in working in one of my films.
ON THE SIDE
"She really understood well everything that was playing in the film, the mapping of feelings, including the ambiguous ones.. But she mostly saw, I believe, how much this role, which is not an appearance at the center of the film, was interesting for her. Kristen has a little bit of a lurid image in Hollywood. In the film, there is a character close for this, a teenage star played by Chloé Moretz, and the character of Kristen takes a very critical look at her, never cease to comment about what she represents. This step aside is a little reflective, it's what attracted her to the project, I think. It allowed her to say: "I have this distance, I can take a step back and you can go fuck yourselves."
STAR AND BEGINNER
"I tried to make her status in the worldwide film industry perceptible on screen. I want to treat the role as if it was interpreted by a young actress who's just left her acting class. In a way, I saw Kristen like a beginner. When I chose Chloë Sevigny in 'Demonlover' (2002), it's because I had admired her in Larry Clark's film. (Kids, 1995). In this case, I wanted to work with Kristen because of how nice meeting her was and because I felt like she had exploited only a small part of her very big potential as an actress. She is a superstar but she hasn't done a lot of things yet. So she's free to go in a lot of directions she hasn't been in yet."
ONE TAKE
"Kristen isn't an actress who rehearses a lot. She learns her text twenty-five minutes before the take and she knows it by heart. Her precision, her malicious intelligence and her fast comprehension impress me a lot. She thinks she's never better than on the first take. And it is often the case. Her implication was linked to the fact that, I think, in movies she shoots in Hollywood, the plan of action doesn't allow you to only shoot in one take. Everything is very much repeated, we can't know this particular shiver of that unique take."
NO LOOK
"She really created the style of her character with the collaboration of Jürgen (Doering) - the costume designer. She wanted this androgynous figure, these big walking shoes, these glasses. She really liked the idea of letting Julianne have all the glamor and putting herself in the shoes of an American student with no real look. "
FREEDOM
"In the scene where they're both swimming in the lake, I let them free to decide whether they wanted to take their clothes of completely or not. I only indicated that Kristen would go in the water first and that Juliette would follow her. Kristen was in her underwear. Less because of modesty, I think, but she seemed to find herself sexy in that way, with her thong under her panties… But Juliette kind of took her by surprise, and took all of her clothes off and ran into the water before Kristen did. Kristen was really admiring of a certain freedom that belonged to Juliette, a capacity to live in the moment, to try risky things, to the point where it might be absurd. As a result, Juliette wanted to surprise her, to go after her."
HISTORY
"There a long history between me and Juliette. Before becoming a director, I wrote the screenplay for the film 'Rendez-Vous'with André Téchiné, which kind of gave her that celebrity status. After that, she was almost a part of "Les Destinées Sentimentales" (2000), but it ended up not happening. But she has a supporting role in "L'heure d'été" (2008). This film was a way to be reunited and reminded us a lot of "Rende-Vous", which already told the story of a an actress on her way to a role. And to see how a role can be played again with the perspective of time, of life that goes on, of shared memories."
MASKS
"An actress is someone who has the ability to stand outside of herself and reach the deepest place within herself at the same time. She is constantly forced to do so. The figure of the actress is something that I'm passionate about, she was at the center of Irma Vep (1996). But Caros (Carlos, 2010) is also an actor, he multiplies the masks. What's interesting to me is the flow between the icon and the human being."
STRANGE STAR-SYSTEM
"Within French cinema, I haven't worked a lot inside the star-system. With the exception of "Les Destinées Sentimentales" with Emmanuelle Béart, then much later with Juliette. Recently, I went to see the play "Les Fausses Confidences" with Isabelle Hupper, and as usual when I see her on stage, I was blown away. I only shot on thing with her and she had a supporting role (Les Destinées Sentimentales). I sent her a letter explaining that I didn't understand why we hadn't at least shot three films together. I hope it'll happen. The fact that I mostly made films with international stars, from the Hong-Kong film industry like Maggie Cheung or the American one like with Connie Nielsen, Nick Nolte or Chloë Sevigny. This is because of my strange status in the French film industry. My only film that is really registered in the film industry is "Les Destinées Sentimentales" and it's everything but a prototype – A three-hour-long film adapted from a co-writer (Laughing). Even "Sils Maria" would be hard to produce with only French capitals, in French, for French actresses. There would always be people to say there's too much dialogue, it's too complicated, too tiresome… What I write is a little offbeat compared to the criteria of the film industry. But if the film is made with an offbeat cast, then it becomes much easier to identify with it. It creates a short-cut that can make projects that would be considered weird a little sexy. I see that in the United States, especially since the success of "L'heure d'été" and "Carlos", I gained a relative notoriety, which sharpens the curiosity of some actors. My next film, for example, will include Robert Pattinson. This status somewhat deterritorialised pleases me a lot. No one bothers me. "
Source
and
Translation